WFP Opens Ebola Emergency Stores In Mbarara
The Ebola outbreak in the Republic of Congo has necessitated preparations to contain the virus in the neighbouring countries to curb the risk of a possible outbreak in Western Uganda.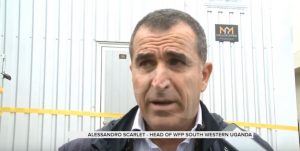 "This is part of the agreement with the government and the Ministry of Health to endeavour to build up and deliver to the districts' supply stores in strategic areas," said Alessandro Scarlet, the head of World Food Programme in South Western Uganda.
The influx of refugees has made it prudent for the country to be on high alert explaining the location of other emergency stores that have been placed in Hoima, Kasese and Fort Portal.
"Quite often we have had a number of these diseases come to Mbarara Regional Referral Hospital and then we go into a mode of having to get supplies from Kampala, UNICEF, donors which sometimes delays the management of a disease," said Dr Celestine Barigye, the Director of Mbarara Regional Hospital.
The Director, Dr Barigye says that the stores will also be instrumental in the tracking of any other outbreaks in the region saying they view this as a landmark especially in how quickly they can manage a patient adding that with a store full of supplies, it is better.
See full story: