Minister of ICT Encourages Ugandans To Get Online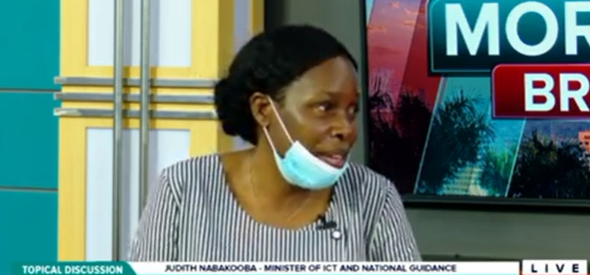 Minister of Information and Communications Technology (ICT) Hon Judith Nabakooba has come out to encourage people to get online saying that COVID-19 is teaching them that ICT is the way to go. She said that ICT methods need to be adapted because it is being effective. She pointed out that it allows keeping a social distance but still delivering on work.
While speaking on NBS Morning Breeze, Nabakooba said that the Ministry of ICT is at 75% stating that she was impressed that they managed to deliver on what they had promised Ugandans from 2016 to date adding that several laws have been put in place that have helped them connect.
"We still have a lot to do to connect the entire country online, but there is progress. Some local governments and police stations are connected online. ICT is becoming an enabler. It enables all other sectors to perform. We believe this is opening up to the global world," said Nabakooba.
The Minister of ICT mentioned that the ministry is creating innovation hubs where young people are being mentored and are making software. She said they intend to use locally made software and support import substitution.
While discussing the phones being made in Uganda, the minister said that once a policy is out, the government will have no choice but to purchase phones and computers made in Uganda.
Nabakooba added that after selling to the government, they shall then entice them to sell at an affordable price to the rest of Ugandans. She said that where challenges are noticed, they can be rectified because the factories are here in Uganda.
"The issue of free to air decoders being cut off was put on the floor of parliament. We met with UCC and other government agencies and asked them to rectify this and report in two weeks," said Nabakooba.
Nabakooba said that this is the time for Ugandans to have information especially local content. Many people are tuned in for instructions.