NRM Big Wigs Who Lost NRM Primaries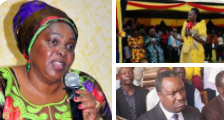 Several incumbents and ministers in the ruling National Resistance Movement (NRM) party primaries have been trounced.
Ministers; Evelyn Anite (Investment), Elioda Tumwesigye (Technology), Adolf Tumwesigye (Defense), Mary Karooro Okurut (General Duties), Michael Werikhe (Trade), Mwesigwa Rukutana ( Labour) and Christopher Kibazanga (Veteran Affairs) all lost.
We wait to see their next move. Will they concede defeat or they will go independent?