New Archbishop Elect of Kampala Ssemogerere Arrives in Rubaga
Bishop Paul Ssemogerere receiving his last blessings from the priests of Kasana – Luweero diocese.
It was excitement and cheer at Matugga, the border of Kasana – Luweero diocese and Kampala Archdiocese, as Kampala received Archbishop Paul Ssemogerere.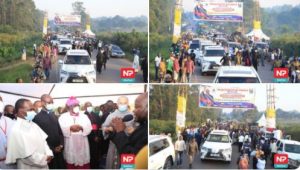 The moment when Kasana diocese officially handed Archbishop Paul Ssemogerere to Kampala Archdiocese. While being received, he was given a Bible and bouquet.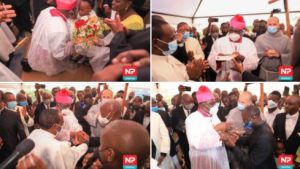 Archbishop-Elect Paul Ssemogerere at Lubaga Cathedral, where he will be installed officially as Archbishop of Kampala Archdiocese.