Three shot dead in Lyantonde district
Three family members were on October 20, 2019, murdered in Lyatonde district by unknown armed assailants following a shooting that has left the residents of Kaliro sub-county fear-stricken.
Francis Rwabagabo and his wife Kellen Nakato were shot dead at 9:00 pm inside their home in Kaliro town. The assailants waited for a few hours and later raided Rwabagabo's in-law Leokadia Kizza's home at Kaliiro III Village located three kilometres away and shot her dead.
Witnesses claim that the attackers aimed to rob one of the mobile money agents known as Arinaitwe who survived being shot after he raised his leg and dodged the bullet. Some family members have however asserted the blame on misunderstandings stemming from a land wrangle within the family.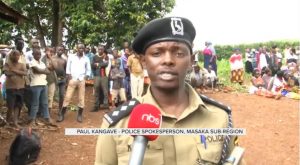 Paul Kangave, the Masaka sub-region Police Spokesperson says that police and other security forces are now in a joint search for the assailants. He says that the Police suspect the assailants to be army officers from the UPDF but still await further information to confirm these suspicions.