UNBS Commissions 22 Billion Laboratory
Uganda National Bureau of Standards has for the last thirty years faced several challenges from samples brought to them due to lack of space in the state of the art testing equipment.
This has however been changed after Government opened a 22 Billion well-equipped laboratory in Bweyogerere, a Kampala suburb to ease business in Uganda and across Africa.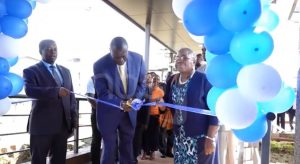 The laboratory is going to serve over 40 million Ugandans, and also help the business community who are exporting both in the region and internationally," said the Executive Director UNBS, Dr Ben Manyindo.
Dr Manyindo said that the laboratory is going to help small and medium enterprises undertake product development. The billion shilling investment, however, came with caution and received criticism from members of parliament.
Follow the full story: